Published: 08/04/2019
Let's imagine, a single person, of reasonably independent means, able to work from home at least part of the time. Not the most typical buyer, but he or she has the virtue of simplifying things so that we can focus a little.
Let's simplify a little more: our buyer has been able to exploit a strongly rising market such they have the option of trading down, if they are willing to move outside the south east cauldron, and pay cash. So mortgage is not an issue.
They choose their area – a small market town surrounded by lovely villages. The town is a bit more expensive, and the villages are a delight, with a strong sense of community that anyone would love. They chose the town.
Why?
It isn't a trick question, but a real purchase decision about three years ago: what settled the deal was the roll-out of BT's fibre broadband. The town had it while the villages didn't even have a planned install date - and the buyer could not work without fast, reliable broadband. And when the buyer moved in, something else cropped up: only one of the mobile phone companies had anywhere near acceptable 4G coverage, and even 3G was spotty for the others.
To those who use it for work, connectivity is not a consumer choice, but a factor of production.
But let's fast-forward to today and add in those pesky families of consumers. In the short space of three years, online streaming has blossomed. From Netflix and Amazon Prime Video to all the catch-up services like BBC iPlayer and Channel 4's All4, appointment TV is now very much at the discretion of the viewer.
The overnight (ie "live") ratings for almost every TV show pinpoint how central streaming has become. Eastenders, for examples, regularly got 10–12m viewers in 2010 but by 2018 only gets 5–6m and similar patterns can be seen for almost all TV shows. There is more choice and less need to make "appointment" TV decisions.
Plus there are multiple devices – even our simplified buyer might have an iPhone, and iPad, a laptop, a Smart TV and a set top box of some kind. Now add spouses and kids. And the key to this is robust high speed connectivity.
And it isn't wise to assume that metropolitan areas will all be kitted out with the fastest and most modern infrastructure. Utility companies are conservative and roll-out is based on deep demographic information that lets them estimate real demand.
Is this important? One way to answer that could be to see whether transaction levels have held up better in areas where more properties have access to ultra-fast broadband.
A quick analysis shows that, of all the Local Authorities or Unitary Authorities where transaction levels have increased this year (January to July 2018 vs January to July 2017), on average, 49% of properties have access to Ultra-fast broadband with an average download speed of 46.4 mbps. However, those places where transactions have fallen have, on average 32% of premises with access to ultra-fast broadband and an average broadband speed of 42.9 mbps.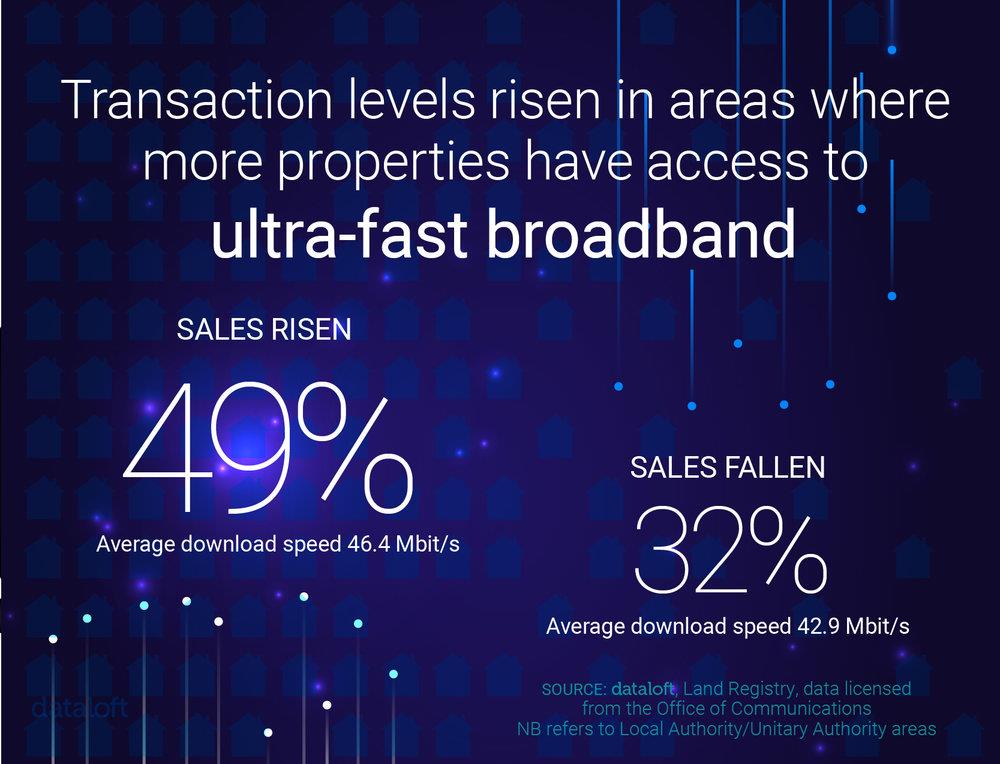 In other words, housing markets that have been more resilient over the past year or two, also seem to have higher proportions of homes with UFBB.
Obviously, some caution is needed, we found a clear link, not necessarily a cause. But it's tantalising, isn't it? So, it is no longer enough to say "benefits from BT Broadband".
Dataloft Inform has data for the quality of connectivity and broadband speed at local level as part of their new local area profile pages. Alternatively, you could follow the example of one local councillor who walked every street corner in his area to measure cellular reception for the various carriers.
Know your market. It is a sort of invisible "kerb appeal". And agents would do well to understand it.
For more help, advice or information with selling and or buying a home please email sales@willmotts.com or call 020 8222 9958