Published: 09/04/2019
Managing a work-life balance in the era of the smart phone, with its incessant dings as yet another email drops through the inbox, is a twenty-first century challenge. And it is not only our mobile devices that have blurred the boundaries. Our offices have become more like homes and our homes are far more likely to include working areas.
Much has been written about the changing nature of work and its knock-on effects on the traditional office, with businesses like We Work and The Office Group creating 'co-worker spaces', where predominantly young and agile companies share open-plan working areas, cafes, table football and bean bags.
The tech-enabled revolution in the workplace has also impacted on the housing market, as a growing number of people now work from home, at least some of the time. Fourteen per cent of UK employees who use computers for their job, work from home every day or almost every day, according to recent ONS statistics and a further 18 per cent do so at least once a week. It varies significantly by age groups, with the over 45s more likely to take (or be offered) the opportunity to work from home, as the chart below shows. Perhaps this is because they are more likely to have space available, or it might be preference. Either way, the housing market will need to adapt.
The trend towards more remote working has the potential to alter the residential market in numerous ways, from changing the desired specifications of homes, to the kind of places people decide to live, not to mention the potential new stresses (or otherwise) on physical and digital infrastructure.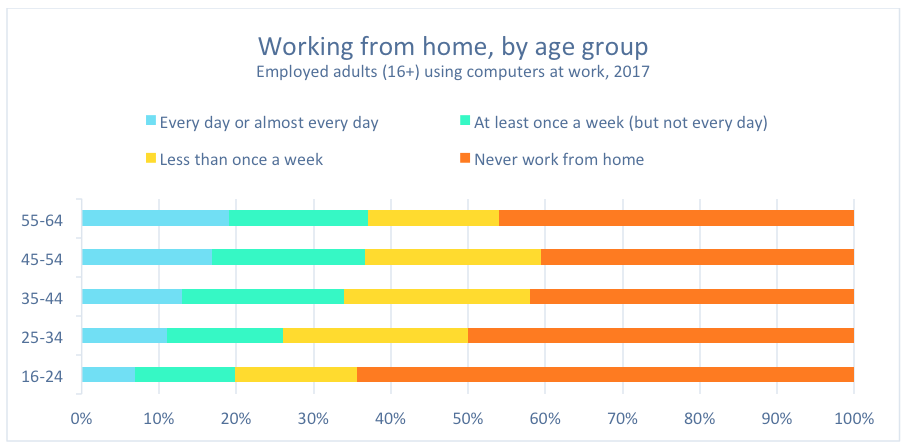 Home design
More remote working could mean fundamental changes to the interior design of our homes. Designers will need to find ways to accommodate desk space where people can work day-in day-out within new build homes. Space standards currently play a role in determining the size (gross internal area) of properties, and so squeezing a dedicated office space might impact on bedroom or living room area, if developers want to maximise unit density as well as providing some work space. There may even be a premium for new homes with built-in office space. Alternatively, developers might include co-working spaces as a shared amenity.
Owners of traditional homes may want to transform any slack space (such as a spare bedroom) into work space, or maybe even extend upwards or outwards for a longer-term benefit. Weighing up the costs and benefits of extending or transforming space will be at the forefront of their minds, but we can foresee a rise in purpose-built office areas within family homes.
Another consideration for people regularly working from home is that insurers may charge higher premiums, although their mortgage should not be affected. For renters, there is the possibility that their lease does not allow full-time working from home.
Location, location, location
Cities are centres of employment and drivers of economic growth. Urban lifestyles are popular but are becoming increasingly unaffordable, with house prices rising well ahead of earnings – even in cities outside London. Cost pressures, combined with potential gains in quality of life, mean that the possibility of remote working may change peoples' preferences of where they want to live.
The prospect of being employed by a company based in the city centre, while working from afar, may appeal, especially later in a career. If this trend materialises in the longer run (there are good counter-arguments why it may not), it could boost residential property values in desirable rural locations as residential demand rises.
Not everyone will be able to work from home all the time, particularly in some professions. But even for those working one or two days home a week, a slightly longer commute would be a worthwhile trade-off if they did not have to do so five times a week. This increased demand could also push up prices in suburban and commuter-town locations, more so than currently.
Infrastructural pressures
A potential change (albeit gradual) in where people live as they work more from home, creates new challenges for infrastructure, including internet and travel (roads and trains).
Internet speed may be critical for home-workers used to high quality office connections. The Government has achieved its target of 95% of homes having superfast broadband, and has now proposed a full rollout of fibre, which may cause complexities for existing dwellings and new developments alike. A poll found that 55% of UK house buyers would reject their ideal house if speeds were below 100 Mbps, with many willing to pay a premium to ensure it – presenting an opportunity to increase sale prices in the residential market.
Many big cities in the UK are facing problems of congestion on their road and rail networks, but with more people working from home, the problem may be dissipated, although not entirely eliminated. It could put added pressure on minor roads as households move further from urban centres, and if developers are going to be building in more remote locations, their Community Infrastructure Levies may rise to accommodate the new needs of residents who split their working week between home and commute.
There appears to be a trend towards more people working from home, at least for some days every week, which is perhaps unsurprising given the flexibility it allows. There is some debate over how far this will continue – there were claims in the past that videoconferencing would lead to the end of face-to-face meetings, which has not fully materialised – but even a small continuation of the trend could have significant impacts on the residential market.
There's a saying that nobody ever died wishing they had spent more time at the office and yet many people devote large parts of their lives to work – perhaps now there's a way to cover both bases?
Are you trying to find your happy place to live, call Willmotts for property advice or information with selling and or buying a home please email sales@willmotts.com or call 020 8222 9958