Our Clients come first
We provide quality and transparent advice. We have always put the client first and foremost in everything we do. By being members of RICS (Royal Institute of Chartered Surveyors) and The Guild of Professional Estate Agents you will get the highest standard of service. All of our staff are highly qualified and know London like the back of their hand.
Independent reviews
We take pride in our performance and welcome independent reviews. We are always looking to hit the highest of standards. We are lucky enough to have some great reviews on the industry's most recognised award site and continue to try to perform at our best
CLICK HERE TO SEE OUR ALL AGENT REVIEWS
Our Team are here to help
Our team believe in integrity, honesty, transparency and client care. We are an independent company where the client is always king. Click here to meet the team
The most progressive form of Marketing
We utilise a huge variety of media including social media (Facebook/Instagram etc), portals, magazines, videos, 3D Tours, you name it, we use it. We make sure your property gets first class photography and exposure.
Expertise
Our team of sales staff, in-house surveyors, valuers, lease experts know property inside and out which helps us guide all our sellers and buyers though every step of the property journey. This enables us to keep sales on track and make sure we progress through to completion.
Book a valuation today, just click here
Sellers News
You Would Have Paid £1,161 for a Hammersmith Home in 1871
Would it surprise you even more when I said the ratio of house prices to wages are still lower today when compared to 1871? Yes, you read that correctly, as a proportion of average wages British house prices are 17.6% proportionally cheaper today than they were in 1871.
I wish to talk about the last 150 years of the British property market and later in the article, the Hammersmith property market. I will also touch on why, before the 1900s, buying a home in Hammersmith was considerably more expensive than today and why that changed.
So, let's look at some interesting stats to get us started:
In 1871, each house was occupied by an average of 5.33 people (i.e. for every 100 houses, 533 people lived in them), whilst today that stands at 2.39 people per house.
In 1871, there were 4.5 million properties in the UK, whilst today that stands at 27.9 million.
In 1871, the weekly average wage was 13s 8½d (68p), whilst today it's £585.50
In 1871, only 20% of people owned their own home, whilst today its stands at 65%
I stated in the first part of the article it was more expensive to buy in the latter parts of the 19th Century than today. It may only be of historical interest, but back in 1871, the ratio of average house prices to average wages was 10.5 to 1 (i.e. the average house was worth ten and half times the average person's wage), whilst today it stands at 8.8 to 1.
Interestingly, for the next 45 years, that ratio went on a downward trend relative to wages and only stopped falling after WW1, where the average house was worth only 2.2 times the average wage. This made houses more affordable and set the foundations for the homeowning passion we Brits have today.
So why did this happen, what can we learn from it and what does it mean for Hammersmith homeowners and Hammersmith landlords?
There are three significant drivers that made property a lot more affordable between 1871 and 1911: the Victorians built more property, made them smaller and people's wages rose significantly.
In the 40 years between 1871 and 1911, the number of properties in the UK rose from 4.5 million to 8.9 million. To give you some perspective, there were 18 million properties in the UK in 1981. If the UK had grown by the same rate between 1981 and today that was experienced between 1871 and 1911, there would be 35.6 million households in the UK (and not the 27.9 million mentioned above).
In 1871, the average plot size of a property was 0.23 acres, yet by 1911, that was down to 0.06 acres (or a plot of 72ft by 40ft). This came about from building smaller types of property (i.e. a change away from larger Georgian detached houses towards the infamous rows of Victorian terraces), and a downshift in the average size of houses within each category.
The average value of property dropped by 26% between 1871 and 1911, whilst wages rose by 85% over the same time frame. So, by 1911, the average Hammersmith property had dropped in value from £1,161 in 1871 to £862.
N.B. – you might have noticed I wrote £1,161 in a slightly different way in the title of the article. Up to 1971, a pound was split not into 100 pence but 240 pence. There were 12 pence in a shilling and 20 shillings (or 240 pence) in a pound. It was expressed in the form £sd and spoken as "pounds, shillings and pence". I dropped that into the title as it's the 50th anniversary this year of when the UK decimalised its currency (younger readers – do google the story – it's a fascinating topic).
So back to the property market and at the end of WW1, four in five people still rented, virtually all from private landlords. Politicians were concerned about the poor living standards of people's homes, and this led to the 'homes fit for heroes' 1919 Housing Act which delivered subsidies for local councils to build council houses. The average value of a Hammersmith property in 1922 was £1,356.
The 1930s - By 1930, the average value of a Hammersmith property stood at £1,713. With the country building a third of a million houses per annum, interest rates fixed at 2% and hardly any planning regulations, supply of property was outstripping demand, so the average Hammersmith home dropped ever so slightly in value to £1,582 by 1938.
The 1940s - With the bombing of many towns and cities and housebuilding being stopped because of the war, this created a perfect storm to increase house prices after the war. By 1947, the average Hammersmith home had risen in value to £5,293 because just as food was rationed during and after the war, so were building materials. Builders could spend no more than £350 on building materials for a new home (and that lasted until 1954).
The 1950s - The '50s were all about building council houses – a quarter of a million of them each year. By 1959, the average Hammersmith home had risen steadily to £7,344.
The 1960s - This decade saw even more houses being built in the UK, with an average of a third of a million houses a year being built. Hammersmith is full of 1960's council houses and now even more owner-occupied housing, meaning by the end of the decade Britain had as many homeowners as renters. The average Hammersmith house had risen in value to £13,468 by 1969.
The 1970s - We experienced the first boom and bust housing bubble in the early 1970s with house prices rising by over 30% a year in the early years of the decade (so the current 10% a year is child's play!) but prices dropped in 1974. They recovered quickly in the following years, not because of increased demand but due to hyperinflation, making the average Hammersmith house price rise to £68,492 by 1980.
The 1980s - This was the decade of council tenants being able to buy their own homes, although not many people know it was an idea from Labour. They decided against the idea, but it was seized upon by the Tories, who made it the cornerstone of their 1979 election manifesto. The property market helped improve the economy, and by 1988, Hammersmith property values increased to £143,262 (only to drop by 32% a couple of years later).
The 1990s - The housing market crash of the early 1990s was painful for all, exacerbated by mortgage interest rates being raised to 15% on Black Wednesday (16 September 1992) and left there for 12 months.
Unemployment went from 1.5m to 3m for the second time in ten years, and many of those homeowners who had taken out large mortgages in the late 1980's housing boom could no longer afford the repayments because of the high interest rates, meaning repossessions went through the roof. The crash also made builders nervous, and they only built 150,000 houses on average a year in this decade. Yet, by the mid-1990s, things started to improve. So much so, the average Hammersmith home was worth £268,560 by the turn of the millennium.
The 2000s - The decade of cheap mortgages and the rise of Buy to Let, together with a severe drop in the number of new homes being built, contributed to the UK's third big housing bubble since WW2. The average Hammersmith house price more than doubled to £719,184 by 2008, before the Credit Crunch brought the boom to an end, and a year later (2009), the average Hammersmith property had dropped to £638,777.
The 2010s - The property market started to come back to life in the early 2010s with property values steadily rising throughout the decade, yet builders were only building around 135,000 new homes a year. It also might surprise you that by 2015/6, the number of homeowners was starting to rise quite significantly, meaning today, as we enter the 2020's decade, the average value of a Hammersmith property now stands at £989,291.
So, now we are back to 2021.
Yes, your Great-Great-Grandfather might have been able to buy their Hammersmith house for a shade over £1,161 in 1871. Taking inflation into account since 1871, that same Hammersmith house today would be £139,859.61, yet if his wages had increased by inflation at the same rate, the average wage today would be £81.91 per week, not the current £585.50 per week.
I appreciate there are plenty of other factors involved with this topic, such as the cost of renting, raising a deposit, changing lifestyles and the biggest point, the cost of borrowing money on a mortgage.
All this begs the question, what does the future hold for the Hammersmith property market?

It's obvious since the mid-1980s, house prices have sustained a period of impressive growth (even withstanding a couple of property crashes). The Bank of England has gone on record to say that much of the rise in average house values, comparative to wages, between 1985 and now can be seen because of a sustained, dramatic and consistently unexpected decline in real interest rates and additionally concludes that: 'An unexpected and persistent increase in the medium-term real interest rates will generate a fall in real house prices.'
Cheap mortgages and a lack of building have created this situation. So as long as interest rates don't go back to their long-term average of the 5% to 7% range or the Government decides to increase building new homes to half a million a year (from the current 240,000 per year) ... things will carry on as they are in the medium to long term.
These are my thoughts … I would love to hear any stories of your family buying property in the late 19thCentury or early 20th Century and what they paid for it, together with the affordability of Hammersmith property and the future of it.
Call Willmotts for property advice or information with property rentals, Lettings, lettings@willmotts.com or call 020 8222 9958
Visit Our Hammersmith Estate Agents Page Here
Willmotts Property News YouTube Channel
#willmotts #propertyexperts #estateagents #charteredsurveyors #willmotts1856 #guildproperty #tenants #landlords #lettings #landlordadvice #hammersmith #propertymarket #proudguildmember #lease #leasehold #freeholder #mortgage #FTB #firsttimebuyer | Photo by The New York Public Library on Unsplash
No better time for Hammersmith home sellers?
The Hammersmith property market, for people looking to sell, is at its sturdiest for at least the last five years with home buyers jumping on to the Hammersmith property ladder with abandon.
Hammersmith house prices are anticipated to rise throughout 2021 after the stamp duty cut (and subsequent extension until the autumn) and the newly revealed 95% mortgages for Hammersmith first-time buyers (and Hammersmith homeowners with minimal equity).
In addition, the continued low interest rates and the demand for larger homes because of lockdown means the Hammersmith property market should remain bullish for a while. There is a surge in potential buyers putting themselves on mailing lists with Hammersmith estate agents making the biggest disparity between supply and demand for Hammersmith property for many years.
Fears of a cliff edge for the Hammersmith housing market at the end of March have dispersed, somewhat due to the stamp duty tax deadline extension, but also because the elevated level of buyer demand caused by the three lockdowns has continued to swell since the start of 2021 meaning that today …
30% of Hammersmith properties on the market are Sold (STC)
Interesting, when utilising data from theadvisory.co.uk website, the Hammersmith average for the last five years has only been 21%, meaning there has been an uplift of 42.6% in the proportion of Hammersmith properties sold (stc) compared to that five-year average.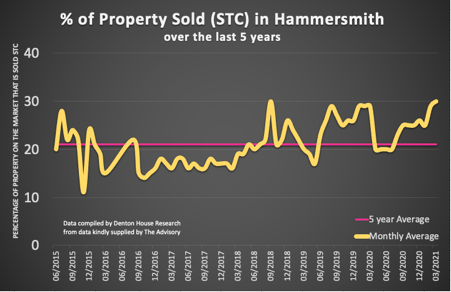 Yet what can't be forgotten is that 9 out of 20 Hammersmith house sellers are also Hammersmith house buyers as well, so whilst they do indeed achieve a higher price for their Hammersmith property, they also have to pay more for the Hammersmith property they want to buy.
So, how much will Hammersmith house prices rise by?
Like all things in life, it's all about demand and supply. I have discussed the demand, yet what about the supply of properties for sale?
There are 11% fewer Hammersmith properties for sale today compared to 5 years ago
Whilst February saw a lower-than-normal level of new properties coming on to the Hammersmith property market, the easing of lockdown road map and faster rollout of the vaccine is also persuading more Hammersmith homeowners (especially those older Hammersmith homeowners who have had their jabs) to start making the first steps towards moving home in 2021.
This will mean there will be more Hammersmith properties available for sale in the conventionally busier post Easter market in the coming weeks and months which should cause more equilibrium and help keep Hammersmith property prices in check.
These are interesting times for the Hammersmith property market. If you are a Hammersmith homeowner or landlord looking to buy or let your Hammersmith property in the coming weeks or months, don't hesitate to drop me a line to discuss what all the points raised in this article mean to you.
Call Willmotts for property advice or information with property rentals, Lettings, lettings@willmotts.com or call 020 8222 9958
Visit Our Hammersmith Estate Agents Page Here
Willmotts Property News YouTube Channel
#willmotts #propertyexperts #estateagents #charteredsurveyors #willmotts1856 #guildproperty #tenants #landlords #lettings #landlordadvice #hammersmith #propertymarket #proudguildmember #lease #leasehold #freeholder #mortgage #FTB #firsttimebuyer
Third of Open Green Spaces are Golf Courses
With an estimated 979,500 golf players, courses reopening in England on the 29th March (joining Wales and Scotland) will be a joyous occasion for many.

There are 373,673 hectares of open green space in Great Britain. Golf courses account for a staggering 33%, the equivalent of 124,806 hectares.

The re-start of many sports will not only be good for our wellbeing but it also helps support the UK economy, contributing £39 billion each year. A significant proportion of this money comes from individuals' involvement in grassroots sport.

With an estimated 1,044,050 residential sales in 2020 and each sale contributing £9,559 to the economy, we estimate residential sales in 2020 added £9.9 billion to the UK economy in comparison.

Are you trying to find a new place to live, call Willmotts for property advice or information with selling and or buying a home please email sales@willmotts.com or call 020 8222 9958

#willmotts #propertyexperts #estateagents #lettingagent #charteredsurveyors #willmotts1856 #guildproperty #dataloft #proudguildmember #propertymarket #tenants #landlords #propertysales #residentialproperty

Source: Dataloft, Ordnance Survey, Sports England, Statista, Knight Frank, HMRC
"We'd got quite fed up of the sheer lack of professionalism and/or care amongst the bulk of estate agents throughout the course of our flat search - Willmotts changed that. William was responsive, readily available, helpful and efficient. Throughout the process he helped us to navigate the rent..."
"I have only had the pleasure of meeting William a few times, since I have been renting this accommodation over the last 10 years. He has a warm and friendly manner and is very down to earth. He is someone who you would not hesitate to contact if you had a problem with or in the property. Personally..."